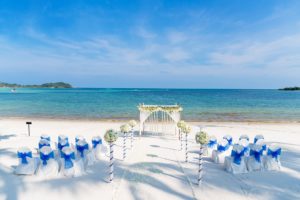 Looking for a great island wedding destination? There are some places that offer mind-blowing and exciting experiences for guests, while other exquisite places attract renowned royalty because of their sublime setting.
Check out these incredible islands for your long-awaited designation wedding.
Waiheke Island, New Zealand
This 35-minute ferry ride right from the heart of Auckland brings you to the "island of wine"—Waiheke Island. Exchange your "I dos" in this magical isle that offers a picturesque backdrop of shimmering emerald waters and vine-covered valleys.
A number of couples have exchanged their vows either on a cliff overlooking the sea, on the beach or among the vines. Then, they hold the reception at the closest local vineyard restaurant, which features superb Pacific Rim local wines and cuisines.
In any case, you'll be swept off your feet with the majestic beauty of Waiheke Island.
The Azores, Portugal
According to legend, the nine lovely, yet lonely, volcanic islands about 800mi off the coast of Portugal are the remains of the famed City of Atlantis. However, in reality, much like the islands of Hawaii, the Azores archipelago was born out of the volcanic activity.
The islands were first settled by Europeans dating as far back as the 1400s. Dubbed as the "Hawaii of the Atlantic", this archipelago has long been under the radar yet still represented a beckoning blip on the radar of promising far-flung destination for both seasoned and first-time travellers.
Its beckoning blip pulsed brighter following UNESCO's and other organisation's recognition over the years.
The Azores is perfect for a breathtakingly beautiful gorgeous wedding venue or even a memorable honeymoon destination thanks to its stellar volcanic scenery, gastronomic-rich delicacies and of course spa-cation offers.
Your guests will enjoy the lush gardens and the geothermal springs scattered around the islands. Not only that, toast your nuptials with their local wines. The region's vineyards have since been trending and have been, for centuries, a favourite of the Russian czars. Imagine that! You'll be drinking like royalty at your wedding.